What is working capital?
Working capital in business is made up of these core components:
Stock management.
Payment of suppliers – creditor payments.
Collection of cash from customers – debtor collection.
Often referred to as 'the working capital cycle', working capital is about the length of time it takes from using your cash to purchase stock – or getting it from a supplier on credit terms – and using the stock, (creating part of the cycle called 'work in progress'), to secure the sale and receive the cash.
Diagram: the working capital cycle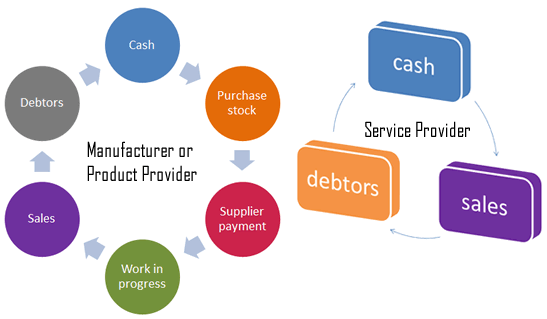 Between each stage of the working capital cycle, there's a time delay.
For some businesses, there could be a substantial length of time to make and sell the product, and a large amount of cash – also referred to as working capital - will be required to survive.
Other businesses might receive their cash very quickly after paying out for stock – even before they've paid their bills. Service businesses won't need to pay out cash for stock – and need less working capital.
Measuring your cash conversion cycle
The time taken to move from the start to the finish of the working capital cycle is called the 'cash conversion cycle'.
The cash conversion cycle measures the overall number of days to convert your trade from the cash outflow at the beginning of the working capital cycle – to cash received at the end of the cycle.
Diagram: cash conversion cycle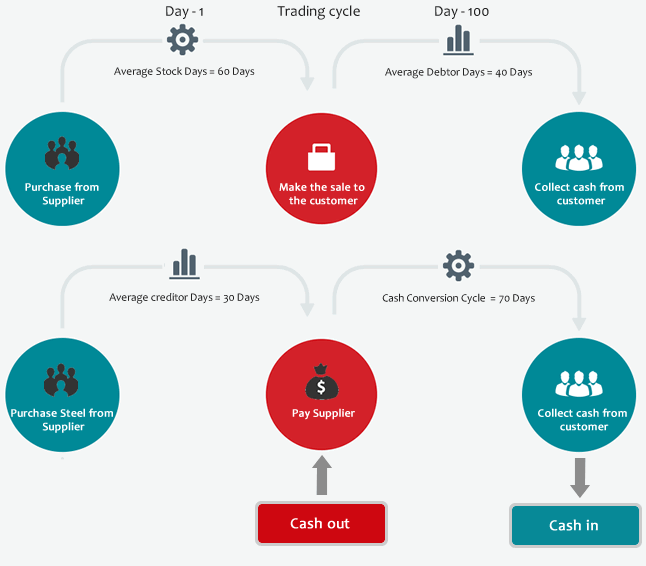 The diagram above illustrates that:
before you can sell anything – you have to buy something such as stock or labour
your 'sales cycle' determines how long the stock sits in store – for example, you may hold on to stock for 60 days
suppliers' terms reduce the cash conversion cycle – the longer you have to pay the supplier, the shorter your cash conversion cycle will be