Jobs Victoria Workers in Transition (WiT) provides information, tools and resources to help both business and workers through retrenchment and into new opportunities.
What is redundancy and retrenchment?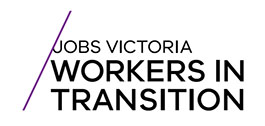 Redundancy and retrenchment are different terms that are sometimes confused.
A redundancy occurs when a specific position within a business is no longer required. In this situation, an employee may be redeployed to another position where suitable. If they can't be redeployed, they may be retrenched.
A retrenchment occurs when an employee loses their position and cannot be redeployed because no other suitable positions exist.
Alternatives to retrenchment
To avoid retrenching skilled employees who may need to be re-employed once the market has recovered, consider alternative cost-cutting and business development activities.
There are many support services in Victoria, both government and non-government, that provide advice and direction about the various options available to help businesses survive challenging times.
Employers need to consider the cost of the retrenchment of workers as part of the retrenchment process.
Retrenchment checklist for employers
Jobs Victoria WiT has developed a checklist for employers to help you establish what you need to do if you intend to retrench staff:
Discuss your business issues with a business mentor or industry group such as the Victorian Employers Chamber of Commerce and Industry (VECCI) on 03 8662 5333 or the Australian Industry Group (AiG) on 1300 556 677.
Look at other options before deciding to retrench staff – for example, organisational restructure or reduced hours on agreement with employees.
Consult with Business Victoria on 13 22 15 regarding options and advice for businesses facing challenges.
Consult with your employees and union/s on the planned changes.
Advise the Services Australia of the proposed retrenchments on 13 11 58.
Check your award or Enterprise Bargaining Agreement (EBA) to confirm your obligations.
Check you are meeting your obligations as a business regarding severance pay, accrued wages, annual leave and long service leave, notice of termination, pay in lieu of notice and Employment Separation Certificate.
Contact the Jobs Victoria WiT team on 1300 208 575 or at jobsvictoria.wit@ecodev.vic.gov.au to arrange a seminar to support and help your retrenched workers throughout the process.
Consider contacting local companies in your industry or similar industries who may have vacancies. Or check Jobs Victoria for a map of recruitment support organisations.
Consult the Fair Work Ombudsman.
Understand business taxation and obligations at the Australian Taxation Office (ATO).
You can also use the following Jobs Victoria guides to ensure you meet your obligations and provide employees with everything they need:
Organise a WiT information session
The Jobs Victoria WiT program is designed to help businesses and workers facing retrenchment and can be contacted to organise an information session for employees.
If you wish to organise an information session, please email the WiT team at jobsvictoria.wit@ecodev.vic.gov.au