Accreditation
Accreditation is a vital tourism industry asset, designed to establish and continually improve quality industry standards for conducting a tourism business. This is achieved by developing professional management systems that will lead to reliability, consistency and predictability in the operation of the business, resulting in improved customer service and satisfaction.
Accreditation encourages businesses to plan how their business will function and check that customer expectations are being met.
Accredited tourism operators have a great advantage when it comes to running and marketing their business including an improved reputation in the tourism market place, improved profitability through the implementation of better operating systems, improved employee morale, more effective management, and great customer confidence and satisfaction leading to repeat business.
Australian Tourism Accreditation Program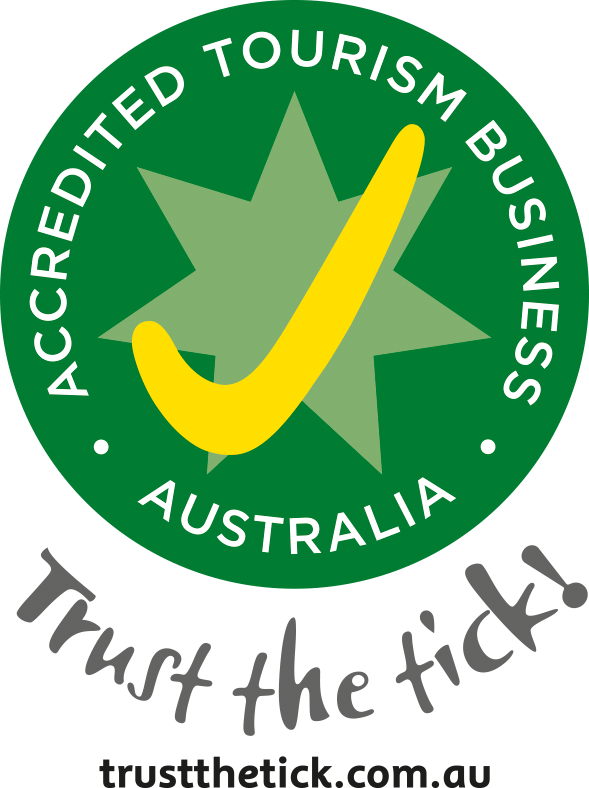 The Australian Tourism Accreditation Program (ATAP) is an Australia-wide, online quality management program which documents tourism businesses practices and procedures. As a business development program that is based on Quality Assurance principles, ATAP focuses on those key elements that are part of the day-to-day function of any tourism operation, and also addresses many of the issues that are covered in the development of a business plan.
If you'd like to know more, get in contact with the ATAP Victoria team on accreditation@vtic.com.au or alternatively, call them on 03 8662 5387.
Star Ratings Australia

Star Ratings Australia accredits accommodation operators via an assessment of facilities, services, cleanliness, quality and condition.
Star Ratings are an internationally recognised symbol for quality accommodation standards. They're used in more than 70 countries worldwide and reflect the cleanliness, quality and condition of guest facilities.
A Star Rating is determined by more than 200 criteria that have been ranked by Australian travellers according to what's important to them.
The 'star' symbols are a licensed trademark and can only be used by properties that have been licensed to use them by the Australian Tourism Industry Council (ATIC).
Star Ratings are your safeguard against 'self-ratings' - properties who have assessed their own quality standards.
Star Ratings are awarded to six distinct accommodation categories:
Hotels
Motels
Services Apartments
Hosted Accommodation
Caravan-Holiday Parks
Self-Catering properties
For further information contact the Star Ratings Australia Victoria team on info@starratings.com.au or phone them on 03 9601 3325.
Caravan Industry Association of Australia National Accreditation Program
Caravan Industry Association of Australia has developed a comprehensive national caravan/holiday parks accreditation program, which identifies those who participate, as industry businesses committed to quality in business management and customer service.
The Caravan Industry Association of Australia provides you with business tools designed for caravan park operations.
EarthCheck
EarthCheck is an international certification program for travel and tourism. Since 1987, EarthCheck has helped businesses, communities and governments to deliver clean, safe, prosperous and healthy destinations for travellers to visit, live, work and play. EarthCheck understands the value of big ideas and the importance of clear communication and knows that what can be good for the planet is also good for business.
Ecotourism Australia
Ecotourism Australia is focused on inspiring environmentally sustainable and culturally responsible tourism. Ecotourism Australia designs and delivers certification programs for tourism products, representing more than 500 environmentally responsible ecotourism operators and 1,500 products across Australia.
Ecotourism Australia's ECO Certification provides certification based on business, environmental, social and cultural sustainability.
Museum Accreditation Program
The Museum Accreditation Program (MAP) is a framework used by museums, galleries, historical societies, heritage sites, and archives to improve operations and increase organisation profile.
MAP is a peer review program managed by Museums Australia (Victoria) since 1993. Staffing is funded by Creative Victoria and additional project funding from the R E Ross Trust.
There are two streams for MAP, one for organisations with paid staff and another for organisations that are run by volunteers or that have up to 1 EFT paid staff.
MAP is supported by a large number of Victorian museums and galleries, industry professionals, and volunteers.
Respecting Our Culture
Developed by industry and Aboriginal Tourism Australia (ATA), the Respecting Our Culture (ROC) Program embraces national accreditation standards and encourages the tourism industry to operate in ways that respect and reinforce Indigenous cultural heritage and the living cultures of Indigenous communities.
ROC certified tourism operators are committed to protecting cultural authenticity and integrity, developing sound business practices, environmental protection and acknowledging Indigenous peoples spiritual connection to the land and water.
Handy tools