Paper Scissors Rock Brew Co
Subject

Pat Calvird, Will Hudson and Marty Schoo

Location

Halls Gap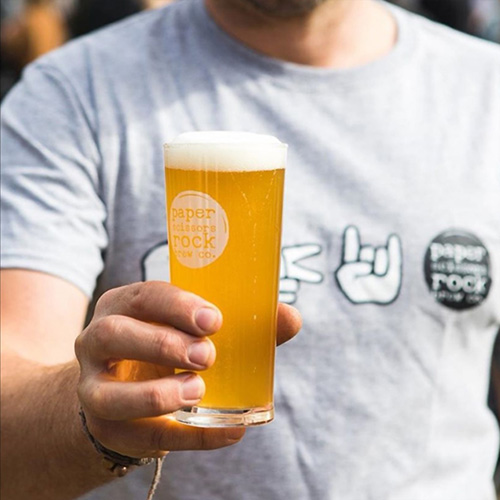 Marty, Pat and Will opened Paper Scissors Rock Brew Co in Halls Gap in April 2019. With very different skills, the barista, photographer and arborist were tired of having no brewery and very little craft beer in their tourist town.

In the heart of Halls Gap, they found a great location in the old tourist information centre. They wanted their place to be the social hub of Halls Gap and to become a major drawcard for the Grampians. Now they offer locally crafted beers, meals and live entertainment for the local community and for visitors. There's something great about seeing a venue full of happy people having a good time, it's what they live for.
'The brewing is such a creative outlet. It's rewarding when one creates something new that you love and then the punters come in and you can clearly see that they're loving it too. There's a lot of satisfaction in that,' says Marty Schoo.
As Victoria heads into summer, Paper Scissors Rock Brew Co has brand new beer offerings, with 'Rhapsody', a new sparkling-clear Bohemian style Pilsner, the 'Ethereal Muffin', a big Triple IPA with ramped-up hops delivering orange, lemon and tropical fruit flavours, and the 'Futterwacken IPA', with aromas of mango, pineapple, citrus and stone fruit.
As well as fresh beer, great food and live entertainment in Halls Gap, the team is stoked to be able to offer Paper Scissors Rock beer and merch online and at selected suppliers around Victoria. If you're a lover of craft beer, awesome stubby holders or t-shirts, why not grab something for your mates and family.
Buy local is a mantra the team uses whenever they can. The ingredients they use in the kitchen are as local as possible, the wines are sourced from as close as possible to the venue, and this carries across to the beers as well. When one uses good ingredients, there's just no comparison.
'The local community is very important to us. They love us, and we love them. As far as we're concerned, if the locals aren't here, we're doing something wrong!' Marty says.