Eco-wrapping and packaging alternatives for small businesses this Christmas
Business name

Business Victoria

Last updated date

23 Nov 2021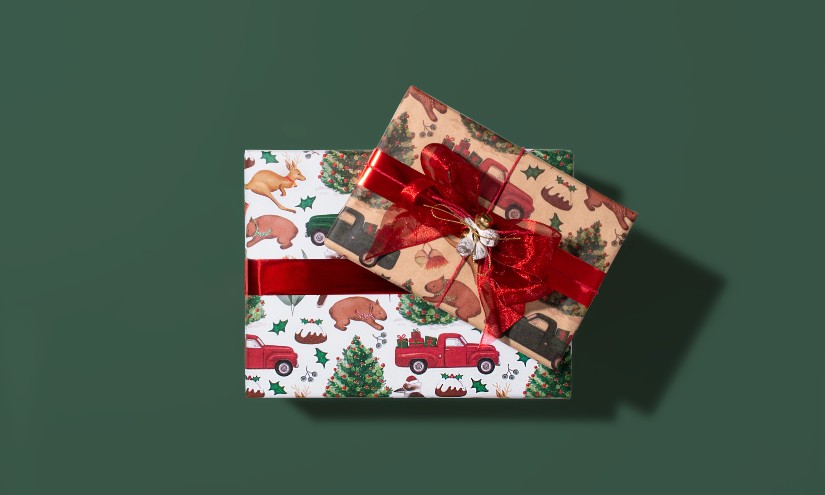 Image: Aussie Xmas - photo courtesy of The Wrapping Paper Company
All Christmas-lovers out there know that one of the most exciting parts of the tradition of gift giving and receiving is tearing open a gorgeously packaged present, or carefully wrapping one up for a loved one.
According to a 2017 survey, Australians use 150,000 kilometres of wrapping paper over the Christmas period – enough to wrap the globe in paper 4 times over.
In a recent survey, 61% of consumers said that sustainability will become more important after COVID-19, so taking action on sustainability is an important step to ensure the future prosperity of your business.
This means it's a good time for your business to review your choices of gift packaging and wrapping. Whether you're providing in-store gift wrapping, selling wrapping paper, or fulfilling online orders, you can take steps to reduce, reuse and recycle this Christmas to minimise the environmental impact.
Is wrapping paper recyclable?
While a lot of wrapping paper is recyclable, not all is. Non-paper components like dyes, glitter, and other decorative elements such as velvet can make it non-recyclable. Additionally, poor quality paper lacks the quality of fibres to be recycled properly; this includes tissue paper.
Be aware that cellophane and metallic or glittery papers cannot be recycled and are more difficult for the recipient to re-use due to high crinkle factor in the unwrapping process.
Use plastic tape sparingly, or not at all. By avoiding tape, more of the wrapping paper can be reclaimed, and it's easier for the recipient to save the wrapping for reuse. Instead, consider using recyclable ribbon, twine, or going tape-free.
To stay eco-friendly, stick to recycled and organic paper, cotton ribbon, raffia, jute, and avoid dyed materials.
Where can you find recyclable wrapping paper?
Never fear! Thankfully, right here in Victoria, there are fantastic eco-wrapping paper businesses that supply 100% Australian made and sustainable wrapping paper for all your Christmas and year-round needs.
The Wrapping Paper Company
The Wrapping Paper Company (Wrapco) is a small, sustainable, family-run business that has been designing and manufacturing wrapping paper in Braeside, Victoria, since 1997.
The business is dedicated to keeping their products ethical, fully recyclable, and fully Australian made. This means you can trust that they not only understand the environmental impact of gift wrapping but do everything within their power to minimise it.
Their paper is made with 100% solar energy, Australian made inks, and is fully recyclable along with the packaging that it arrives in. The product range is specifically designed for retailers, online businesses, and corporate businesses with wholesale and bulk wrapping requirements.
As well as wrapping paper, Wrapco also designs and prints other sustainable accessories including gift tags and seals, and offers custom printing of wrapping paper products.
Learn how Wrapco has taken conscious steps in their manufacturing, packaging and distribution to lower their environmental footprint. Browse their Christmas range and if you want to learn to perfect your in-store wrapping technique, Wrapco's blog has tips on how to wrap Christmas presents like a pro while making the most of your paper.
Brown Paper Packaging
Brown Paper Packaging are Victorian owned and have been operating out of their Moorabbin warehouse since 2003. Specialising in wholesale supply of carry bags, gift wrapping, gift boxes and packaging products to Australian businesses, they stock a huge variety of environmentally friendly products.
This includes craft paper, goodie satchels, gift boxes, raffia, tags, ribbon, as well as packaging options for online orders like bubble wrap, hinged lid boxes, raffia, mailing bags and envelopes.
Their earthBoard © products are recycled, sustainable, environmentally friendly and Australian made, so you can wrap in peace and keep your business's eco footprint at a minimum.
Browse their environmentally friendly products online or make an appointment to view their showroom to look into how you can prepare sustainable gift packaging for your business this festive season.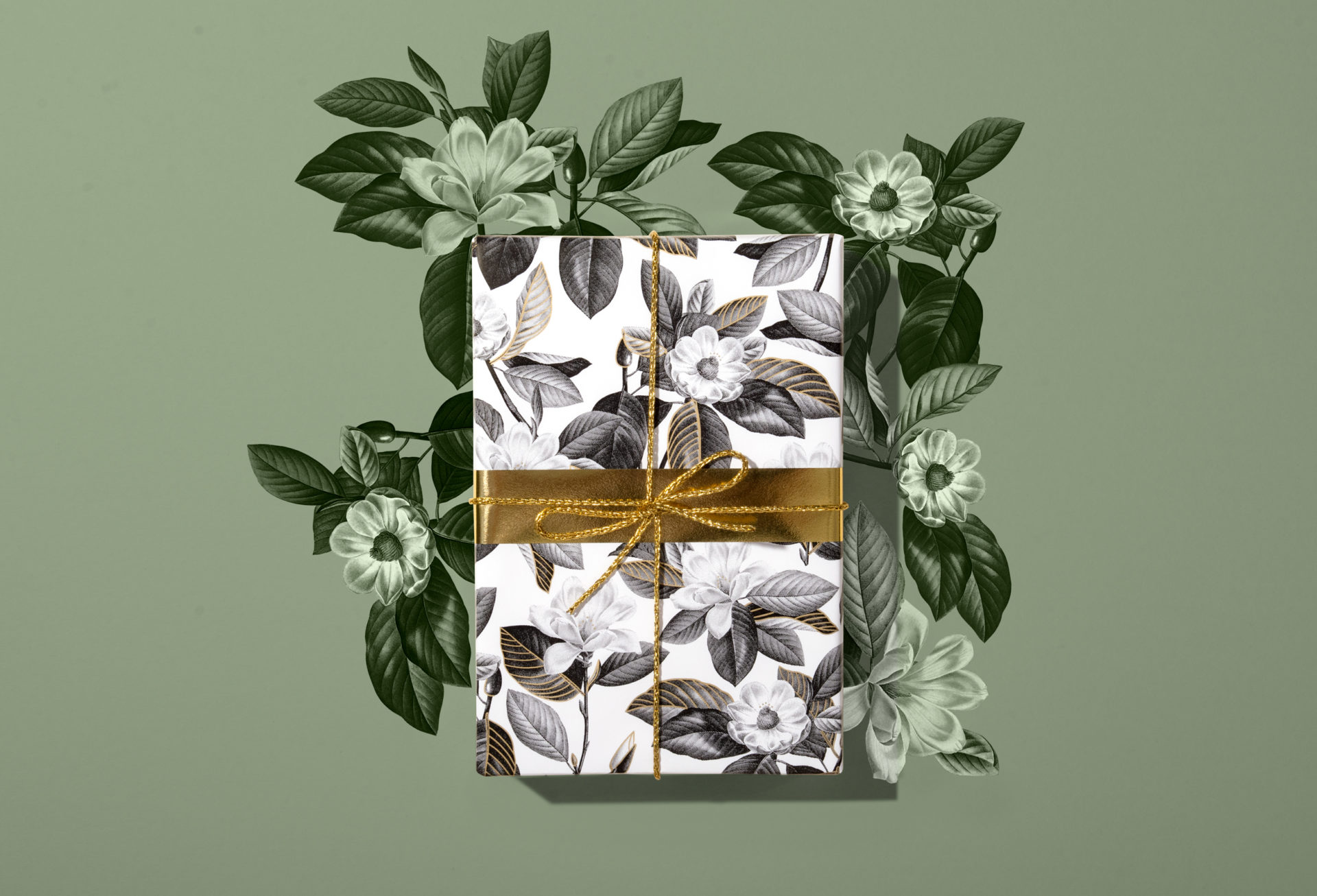 Image: Southern Magnolia - photo courtesy of The Wrapping Paper Company
Wrapping alternatives
As well as using environmentally friendly wrapping paper, you can also investigate wrapping alternatives that present an opportunity to upsell as well as advertise your business.
Cloth tote bags are an added bonus that serve as an attractive gift package, extra present for the recipient, and merch for your business. Win-win-win!
Reusable gift packaging such as silicone bags, jars, baskets, and storage boxes can also offer a good opportunity to upsell a purchase and guide your customers to eco-friendly alternatives. For smaller in-store gifts, beeswax wraps, or Furoshiki, the Japanese art of fabric wrapping, are a unique and reusable substitute.
Use sustainable options for online orders
If you're packaging online orders, there are ways to reduce waste by using recyclable materials and avoiding plastics.
When wrapping and packaging for online orders, consider reusing shipping materials like boxes to avoid extra costs and plastic post bags.
Use recyclable options for wrapping gifts for shipping, such as honeycomb packing paper or the sustainable alternatives such as those offered by Brown Paper Packaging, rather than traditional tissue paper or bubble wrap.
Unboxing can provide that wow factor when customers receive a gift and provide opportunities for your products to be shared on social media, but steer clear of single-use plastics such as wrapped lollies and glitter. Single-use plastics are only enjoyed for a few moments, but their impact on our environment can last thousands of years. Consider using natural materials such as native tree sprigs or dried flowers or avoiding altogether.
What about disposing of wrapping paper?
We've probably all done it at some point. 'Wishcycling' refers to chucking something into the recycling bin and hoping that somehow this makes the material recyclable. However, this is not so.
In fact, aspirational recycling can render an entire batch of recyclables contaminated, forcing it all to be sent to landfill.
Ultimately, when in doubt, throw it out, and make sure you're familiar with your local recycling rules.
Note that soft plastics that can't be reused can be recycled at REDCycling facilities at supermarkets rather than being thrown straight into the bin for landfill.
Gift wrapping is as deeply engrained in Christmas tradition as Santa's sleigh and isn't going anywhere any time soon. Ensure that your business is ahead of the curve by using sustainable practices and products for gifts this Christmas, all while having Santa's little helper–level wrapping game.