Go green, reduce waste and increase profits
Business name

Sustainability Victoria

Last updated date

7 Jun 2023
According to the UN, more than 400 million tonnes of plastic is produced every year, half of which is designed to be used only once. It makes up a third of the litter we see in our environment, posing a serious threat to wildlife and our own health.
Starting 1 February 2023, the Victorian Government implemented a ban on single-use plastics including common items like plastic drinking straws, plates, cutlery, drink stirrers and sticks, and cotton bud sticks as well as polystyrene food and drink containers.
Many businesses have found switching to reusables is cheaper and easier than one might think. Small businesses across Victoria have embraced the change and are saving money in the process. Here are a handful of businesses that have adopted the change in inspiring ways.
Glou Wine (Collingwood)
Did you know that over 65% of wine industry greenhouse gas emissions come from glass packaging and transportation, with significant heat required to melt and recycle wine glass bottles?
Glou Wine has saved an estimated 60 tonnes or 120,000 glass bottles from becoming waste in its first two years by offering reusable bottles to their customers and KeyKegs to their suppliers.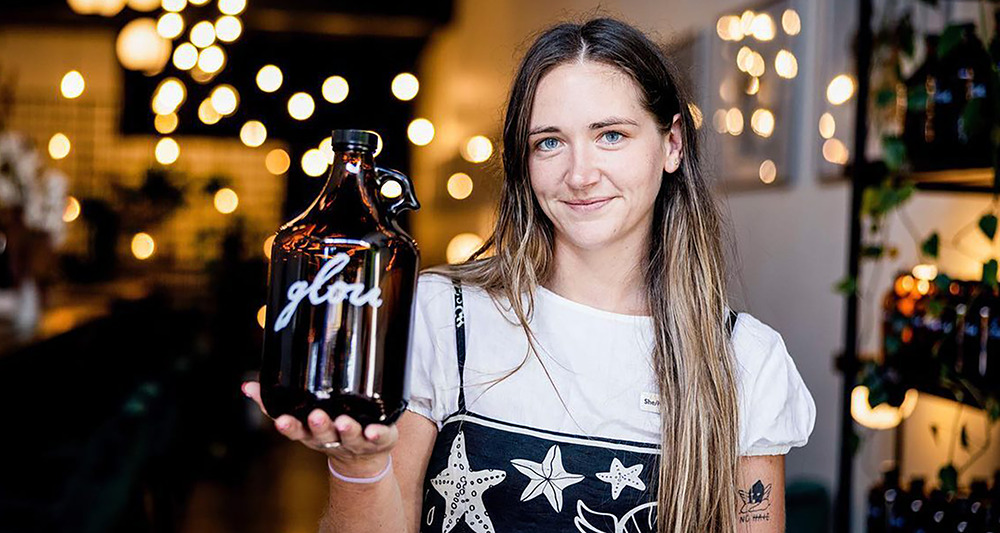 In Season Juices (Alphington)
Julian Fang from In Season Juices sells his juice in reusable glasses at the Alphington Farmers Market, rather than single-use plastic cups. He says the investment up front is well worth the initial cost and is ultimately cost-effective.
"It just makes sense to be able to provide a glass option that people can have their juices in and then return to the wash station," Julian says.
"Those glasses remain in circulation as opposed to using a single-use disposal cup that ends up in landfill.
"With the glasses, you invest a little bit more up front, but then over time it becomes more sustainable for the business, so there's a cost benefit as well."
Fisherman's Co-op (San Remo)
It's clear that customers are now flocking to businesses that offer non-plastic options, with fish-and-chip lovers appreciating the cardboard containers, wooden cutlery and reusable bags and drink bottles at the San Remo Fisherman's Co-op.
"Many of our regular customers are also bringing reusable containers and eskies for their takeaway orders," says co-op manager Paul Mannix.
"We get great feedback from new customers and tourists as well who are loving our efforts in sustainability."
Into Coffee (Collingwood)
Into Coffee manager Jarryd Griffiths says their customers are always willing to try their green experiments, like edible coffee cups.
"People now expect businesses to do more for sustainability," Jarryd says.
As well as being great for business, providing reusable alternatives is making a big difference to the amount of waste polluting our environment.
Wholefoods Unwrapped Collective (North Coburg)
By operating a reusable container library at their Sydney Road store, Wholefoods Unwrapped Collective has diverted a whopping 14.5 tonnes of waste from landfill.
In 2018, Gabrielle Pestinger initiated the 'Unwrapped' project aimed at reducing waste. Using durable reusable containers that supply customers with produce direct from farm to plate resulted in eliminating packaging in the food system.
The Wanderlust Chefs (Wonthaggi)
At Wonthaggi's Wanderlust Chefs, encouraging customers to bring their own containers has stopped more than 1,500 plastic containers from going to landfill every month.
Customers can choose to store their BYO containers at The Wanderlust Chefs and after meals are prepared, Cassandra and the team will have them ready for collection or delivery. Customers also have the option of bringing their containers and having meals served to them over the counter.
Ends and Means (Collingwood)
Josh Hunt from cocktail bar Ends and Means says their waste minimisation efforts mean they produce less than 8 litres of waste every week.
"If we didn't care, we would be producing 10 times more waste," Josh says.
"But through small changes every step of the way, the challenges of sustainability didn't overwhelm us, and we've seen a big difference.
"Everyone should play their part to make this planet a better place."
Learn more about accepting reusables at your business on the Sustainability Victoria website.