23 Jul 2019
The value of Victoria's burgeoning visitor economy has soared to $30 billion, cementing tourism as a key driver of the state's economy and a jobs powerhouse.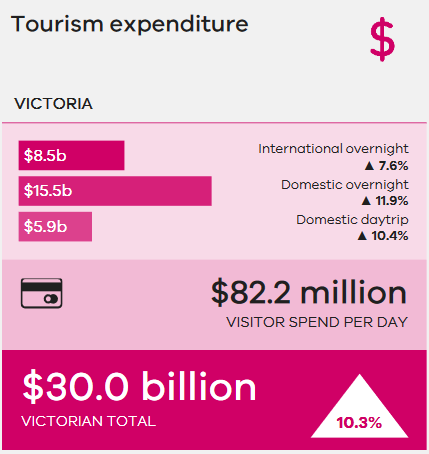 New figures released by Tourism Research Australia show Victoria welcomed 90.6 million international and domestic visitors who spent $30 billion in the year to March – growth of 11.2% and 10.3% respectively.
The top 5 international countries for visitors were China (679,900), New Zealand (345,900), the US (247,700), UK (221,700) and India (170,800). Chinese visitors have grown by 13% a year since 2014 while the number of Indian visitors more than doubled in the same period.
In regional Victoria, spending by all visitors saw double digit growth, up 10.4% to $11 billion, while the total number of visitors increased by 9.5% to 57.1 million.
Regional Victoria's strongest performers experienced double digit growth in spending, including Victoria's High Country (20.3%), Gippsland (16.6%), the Murray (14.7%) and the Mornington Peninsula (14.1%).
In Melbourne, total tourism spending grew by 10.3% to reach $19 billion while total visitors grew by 13.6% to reach 34.7 million.
Tourism supports more than 214,000 jobs in Victoria, including 85,000 in regional areas.
Get more Victorian tourism insights.